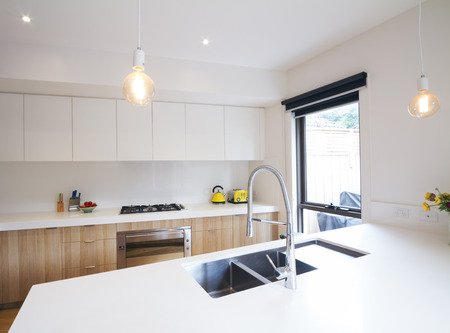 Are you searching for the appropriate type of lighting fixture for your home? Whether it's the living room, your bedroom or the kitchen, it's important to use the right type of lighting for a space. From integrated lighting solutions that are built into a homes structure, to simple decorative table lamps that can easily be plugged in, there are several options. Most lighting fixtures are versatile and can be incorporated into any room. Before you make the final decision on what type of lighting you're going to use in a room, take a look at the list of lighting fixtures that we've compiled.
Architectural Lighting
Architectural light forms are built into the structure of the home. The most common types of structural lighting include cove, valance, and soffit. Cove lighting is installed in the ledges, ceilings valances, and high walls. This type of lighting fixture works to direct light upwards. Valance lighting is built in a wood, glass or metal valance and placed above a window or high up on the wall. This type of fixture offers indirect lighting since it bounces light off the ceiling. Soffit lighting directs lighting downward and is mounted in the soffit near the ceiling.
Other forms of architectural lighting include:
Recessed – Recessed lighting is installed approximately six inches above the ceiling. Recessed lighting is a narrow band of lighting that provides one directional lighting.
Track – Track lighting fixtures are suspended from the ceiling and consists of a linear track containing several lighting heads. The lighting heads are often adjustable.
Pendant lighting – Pendant lighting has become increasingly popular. Pendant light fixtures are suspended from the ceiling and can hang over a kitchen island or table.
Easy Set Up Lighting Fixtures
Many lighting fixtures don't require professional installation. These fixtures include:
Lamps – Lamps are produced in a variety of colors, style, and designs. You can purchase floor, desk and table lamps. These lighting fixtures are versatile because they can be moved from room to room and plugged into an outlet. Floor lamps direct light upward while desktop lamps direct light downwards.
Scones – Scones are mounted on the wall and can direct light upwards or downwards. Their shades are stylish and offer great aesthetic value.
Ceiling – Ceiling light fixtures are installed into the ceiling. A shade or glass covering conceals the light bulb. Ceiling light fixtures can usually provide illumination for an entire room.
Chandelier – Chandelier light fixture are usually used in formal areas of the home. They are suspended from the ceiling usually over a table.