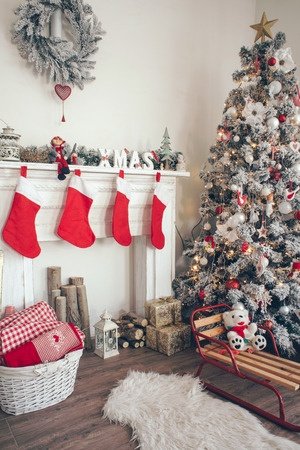 Although the holiday season is a time for joy and happiness, it can be stressful preparing for this time of the year. From shopping for presents and decorating the Christmas tree, to getting the house ready for guests, it can seem like there is so much to do. Bringing the holiday spirit in your home should be as little stress as possible. Here are some realistic tips for decorating for the holidays:
Start Planning Ahead
While you may be a superhero to your family, realistically you're just human. Therefore, keep in mind that you can't do everything. Being too overwhelmed prevents you from enjoying the holiday season with your family. Before you start decorating the house, decide what areas you want to focus on. The outdoor area, entryway and perhaps the family room may be top on the list.
Throughout the house
Speaking of the entryway, you don't have to stop decorating here. While you don't want to create a cheesy look by overdoing it with the Christmas decorations you can add small, simple touches in every room.
Purchasing Ornaments
When decorating the Christmas tree don't feel like you have to purchase expensive ornaments. Discount stores and outlets sell inexpensive ornaments that look just as festive and elegant.
Wrapping Your Gifts
Repurpose newspapers, magazines and other types of unique papers to wrap Christmas presents. You can even create your very own wrapping with glitter, paper and drawing pencils. Top it off with a ribbon or an accent piece. You'll be saving money and the environment.
Light dimmers
Purchase light dimmers for your lamps that can easily be plugged into an outlet. They are cheap and can be purchased at hardware stores. Light dimmers allow you to really set the mood providing the perfect ambiance for Christmas Eve.
Plan for hiccups
If you plan on having a lot of people over to the house, make a plan for the unexpected. Prepare extra food and purchase inexpensive gifts that can be held in a glass bowl for unexpected guests.
Get the family involved
Make sure you get the whole family involved. The kids can help you decorate the house. Allow them to decorate their rooms as they please. The family can help you design the Christmas tree and prepare food for the guests.
Happy Holidays!