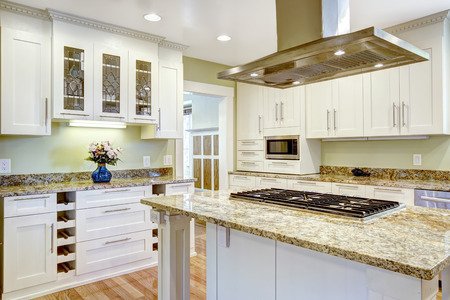 Thinking about giving your kitchen cabinets a new look by painting them a fresh new color? Know that your color choice will set the tone for the entire space. Yes, choosing the right hue is important because it will affect how you feel about your kitchen every time you enter the room.
There are literally hundreds of different colors to choose from. The best way to narrow down your choices is to examine color palettes from different manufacturers. Hues can vary depending on the brand. What color stands out to you? The hue that you like the most should serve as the dominant cabinet color. Next, you can select complementary colors for the trim and accent. Once you've narrowed down your color selections you're nearly halfway through the process of getting your beautiful updated cabinets.
What are some great colors you can dress your cabinetry up with? Well, cool blues and greens creates a relaxed feeling. Which is ideal if you want the color to fade into the background, but still have some interest. Red and orange are intense hues that may leave you on edge. So if you're interested in a bold and edgy look than you should consider using a palette from this hue. Maybe black cabinets are your style. Although, black is neutral color it contrasts beautifully against white walls. If you decide to go with this look, then you make sure you contrast with other lighter elements so the kitchen doesn't look dark and overwhelming.
Interested in something light and cheery? Than steer towards sunny oranges and yellows. Of course, white is an ideal choice to go with since it's simple offering a clean and streamlined look. The great thing about an all white cabinetry pallet is that you can play around with different accent colors.
Do you desire a modest yet modern look? Than stick with neutrals like white, beige and gray. You can spice up neutral palettes with different coloring effects by painting eclectic stripes or creating an unusual trim design. You can also create a two-toned ombre like effect on your cabinets for a unique look.