We've chosen to highlight column refrigerators from three very different brands. European brand, Miele, is well known for their top performing diswhasher, but also has a great story on their column refrigeration. Sub-Zero literally invented the built-in refrigerator category, and with their extensive new refrigerator launch a few years ago, they easily have the most complete line of column refrigerators in the industry. A cooking brand, Dacor, introduced their column refrigerators only a couple of years ago, and they are already enhancing the lineup with a unique interior. Let's take a quick look at the column refrigerator lineups from these three notable manufacturers.
Miele
Miele's MasterCool column refrigerators are available in 3 widths 22", 30", and 36″. Laden with high end features, reviewers rate Miele high for its lighting, temperature control, and quiet operation. Exclusive to Miele is RemoteVision, a feature which allows Miele to remotely monitor your refrigerator's performance and notify you if it needs service. As a brand, Miele is known for appliances with a long lifespan, and reliability.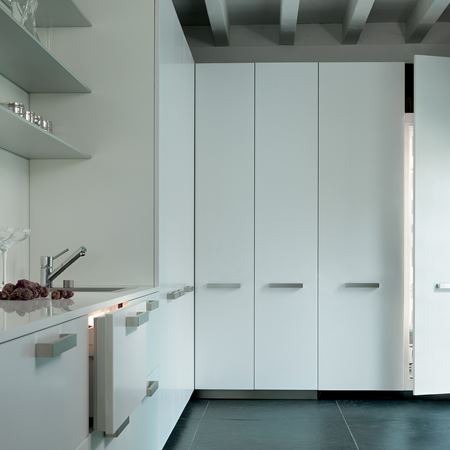 Sub-Zero
The name Sub-Zero is a giveaway for the brand that pioneered the built-in refrigerator category. With their massive re-launch of new refrigeration products beginning in 2014 Sub-Zero has the most complete line up of columns in the industry. From all refrigerator, all freezer, or combination units Sub-Zero can seemingly meet anyone's needs. Widths available are 24", 30", and 36″. As you might expect, the Sub-Zero columns are loaded with popular features. Worth noting, is the Sub-Zero 2 year warranty, which is extended to 3 years if the product is installed by a certified installer.
Dacor
While Miele and Sub-Zero don't lack for high end, custom features, Dacor will not be outdone. Their new column refrigerators are equipped with dual wi-fi enabled cameras that allow the user to examine the refrigerator contents using an app on his or her smartphone.
Choose from a handle or handle-free design, and open the refrigerator with a simple tap. The Dacor interior sports a high tech integrated LED lighting system that automatically adjusts the light to the external environment. Dacor has also introduced an exclusive porcelain model which features porcelain interior panels as well as porcelain crispers.
There's more, much more, to learn about these brands, and the other column refrigerators and freezers on the market. Call or visit one of the convenient Arizona Wholesale locations today in Tucson, Phoenix, or Scottsdale.