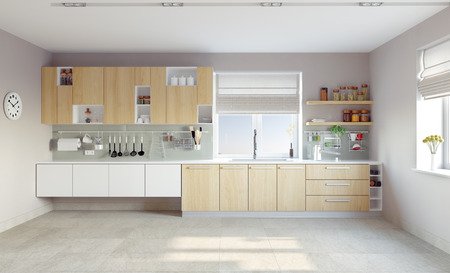 Tired of looking at the same wood cabinets? Even if your budget doesn't allow you to completely renovate your kitchen, a few trendy updates in the space can make a world of difference. While the look of dark granite countertops is still stylish, if you're interested in stepping into the twenty-first century here are few trends in kitchen design that you may want to try.
All Gray Everything
Remember those days when white was always the choice of color for cabinetry? Times have changed. Gray has become the new white. So if you're looking for a new hue for your kitchen cabinetry, yes, a combination of soft gray cabinets and stained wood is super stylish.
Changing Up The Functionality
Banishing the kitchen walls just to open the layout may not be an option, but you can still improve the functionality of the kitchen without making such major moves. Try new innovative cabinet doors and cabinets. Manufacturers are now creating kitchen drawers and cabinet doors that fold up out of the way with simply the touch of a button.
You can also increase kitchen functionality by adding in some automation. There many different ways to automate things in the kitchen. You can have light sensors that only illuminate the kitchen when you enter and hands-free faucet.
Induction Stove Top
Get rid of your bulky stove top and opt for induction burners. Yes, the modern kitchen utilizes an induction stove which is sleek, safe and aesthetically pleasing. The best thing about induction burners is that they use very little heat which means that no matter how small your kitchen is, the area stays cool while your cooking. In addition, they are safe to touch while in use.
Bold Color Sink
Much like kitchen cabinetry, today's trends are steering clear from stainless steel or all white sinks. Instead, you can opt for a bold hue kitchen sink such as lime green, jet black or red can be eye catching. Such a pop of color can serve as a focal point in the space.
Non-Traditional Fixtures
Another great way you can add excitement is by choosing unique and bold fixtures. Oversized, gold and rose gold are some trendy kitchen fixtures that instantly add drama to the space.
Follow us on Facebook and Twitter for more home design inspiration ideas! And please share any ideas you have on current design trends with us below!