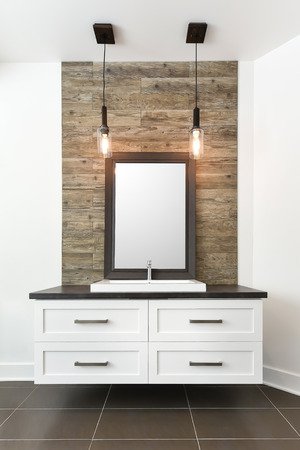 Are you tired of the same old, boring lighting fixtures in the bathroom? Do not be afraid to add style to this often neglected room in your house. You can make a statement just by opting for trendier bathroom lighting. Believe us, your mornings will get so much better. Here are some trendy bathroom lighting ideas:
1. Industrial Style Lighting Scheme.
Are you looking for something trendy and unique? An industrial style lighting scheme can be the perfect choice for you! You will want to look for fixtures that feature exposed iron and select heads that feature copper or silver tones and accents. Choosing double sconce, adjustable heads will allow you to control the direction of lighting to wherever you desire.
2. Vanity Lighting.
Incorporating task lighting around your vanity is a bathroom trend that homeowners love. It contributes great lighting within a bathroom to create lovely space. Instead of a single lighting fixture around the vanity, you can opt for multiple wall-mounted lighting on each side of the vanity. This can also help to prevent unflattering shadows.
3. Accent Lighting in Areas of the Bathroom.
Accent lighting can be used to highlight different areas of your bathroom such as a piece of artwork and other interesting areas within the space. For instance, recessed lighting can be used to bring emphasis on a beautiful built-in shelving unit in the bathroom while a glitzy chandelier over a freestanding jacuzzi bathtub brings emphasis to the area.
4. Layered Lighting.
You can use multiple types of lighting features within the bathroom to further enhance the space. A well-designed layered-lighting scheme could include: overhead lighting, vanity lighting, and recessed lighting as well as accent lighting to illuminate key areas.
5. Under Cabinet Lighting.
You have probably never imagined installing lighting underneath of your cabinetry. Under cabinet lighting is an opportunity to showcase your bathroom's beautiful flooring or decorative backsplash. It helps to accent the space while showcasing your beautiful choices.
6. Backlit Mirror
We love mirrors in the bathroom; however, instead of choosing plain, old mirrors for the bathroom, spice things up by purchasing a backlit mirror. Backlit mirrors will give off a halo effect and cast a soft, warm glow over your bathroom.
7. Decorative Lighting
Every bathroom should have some form of decorative lighting to add interest to the area. From elegant chandeliers to intricately designed wall lights, your options are numerous.
We hope you enjoyed these popular bathroom lighting trends. Be sure to check back weekly for more tips and tricks.