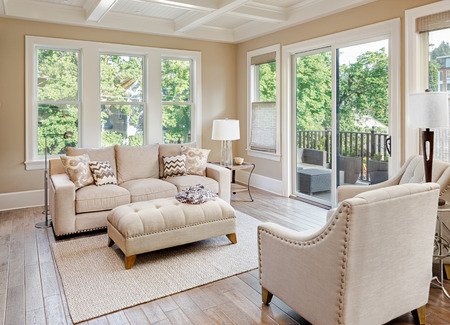 Who does not love quality hardwood floors? They are tremendously beautiful and add character and charm into any home. Some may say that the hard part comes from selecting just one for your space. With an array of different options, homeowners have the pick of the mill when it comes to choosing their new floors. And if you are a hardwood fanatic like we are, you may be interested in learning more about hardwood trends that homeowners are currently doing. Let's take a look!
Popular Trends in Hardwood:
1. Wide Planks + Longer Planks.
Homeowners are obsessed with wide-plank flooring. This beautiful option helps to show more of the hardwood and less of the seams, in essence creating a timeless masterpiece. Longer planks can help create a more visually appealing space by making the room look continuous. If you use the two together, you can create a sophisticated and breathtaking design within your space.
2. Low-Luster Finish.
Next, we see homeowners loving a low-luster finish. A low-luster hardwood finish mimics the look of oil-finished floors without the constant upkeep. This beautiful finish keeps the traditional look of oil-finished floors while adding a modern rendition of style. Plus, they are kid and pet-friendly because they do not display as much dirt, debris, and dust as traditional hardwood floors.
3. Reclaimed Wood.
Let's be honest, reclaimed wood is all rage. This trendy look captivates an entire room with its rustic charm and alluring warmth. The best part about reclaimed wood is that it works in different styles of homes. Whether you are contemporary or traditional, this charming addition is a must.
4. Coastal Colors.
Everyone dreams of a coastal paradise and so do our floors. Coastal colors (white, gray, and light beige) have become a popular choice for homeowners because of its relaxing feel. This color scheme will work especially well in bathrooms and bedrooms, where you want to create a serene environment.
5. Herringbone Pattern.
If you are looking for a way to display your gorgeous floors, you will want to try installing them in a herringbone pattern. This beautiful style helps to make your floors the focal point and creates a gallery-feel inside your very own home.
Are you feeling inspired? We would love to help you with your next flooring project! Call us or visit us at one of our showrooms for more information.