I love the built-in espresso coffee maker. I think it was Miele that really pioneered this product in the U.S. They're certainly one of the leaders in this category, and for years Miele, and perhaps Thermador, fairly well "owned" the built-in coffee maker category.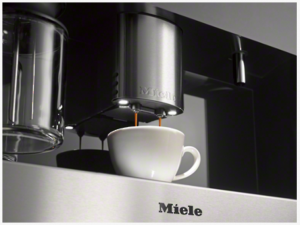 The built-in coffee maker was really a specialty product that was rarely found in any but the most exclusive homes. While price was certainly one reason, there were also other reasons why built-in coffee makers took a while to become popular.
First, coffee makers were not "major" appliances, so they didn't properly fit in the refrigerator, dishwasher, and range niche. Traditional major appliance distributors and retailers had no interest in this category. In addition, espresso drinks were not nearly as popular as they are today. Finally, while the BIG appliance manufacturers, such as GE, Whirlpool, and Frigidaire were happy to sell niche' products like trash compactors, and even built-in ice machines, coffee makers were "housewares" items, not major appliances.
Eventually, espresso drinks became popular and Starbucks sprouted up on every street corner. Almost simultaneously, European appliance brands such as Bosch, Gaggenau, and Electrolux gained distribution in the U.S. and built-in coffee makers became available at the premium appliance outlets. 
While built-in coffee machines and espresso makers are still a premium product, they have grown tremendously in popularity. Here is a terrific video (by our sister company) describing some of the built-in coffee makers available today and their features. 
As you can tell, there are some great options in built-in coffee machines including excellent options from Thermador, Miele, Gaggenau, Bosch, Jenn-Air, and Wolf. For the best selection and prices call or visit one of the Arizona Wholesale Supply locations.