In part 1 of this 2 part series How to Save Money on Appliance Purchases, we discussed purchasing appliance packages or suites to take advantage of manufacturer package discounts. Today, we're covering some remaining ways to save money on appliances.
Delivery and installations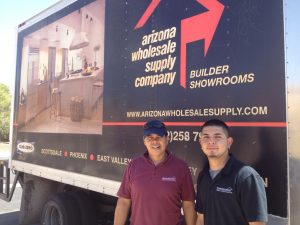 Do you own your own truck? Are you comfortable unpacking and installing your own appliances? You can definitely save money on delivery and installation. For me, installing appliances is a daunting process. Also, I've had great experiences with the professional installation at Arizona Wholesale. They unpack and examine the appliances, put them in place, level them, hook them up, and even give a brief review of the operation. It was well worth the expense for me, but your mileage may vary.
Discontinued models
Appliance models do not necessarily change each year like automobiles. However,  on any given day there's a decent chance that some manufacturer is closing out some appliances. Check with your sales associate by asking about discontinued models.

Model home returns
Builder distributors like Arizona Wholesale often need to change out and update model homes. These appliances are new. However, maybe they've been sitting in a model home for a while. Therefore, Arizona Wholesale needs to discount model home appliances to sell them. It's another way for you to save money.
Scratch and dents
It's a fact of life that appliances can and do suffer from bouncing around in railcars and on trucks. Sometimes dents and blemishes are in places where they won't even be seen. Nevertheless, they can't be sold as first class goods, and you can save by purchasing from our scratch and dent selections.
Display and show models
It's not unusual for Arizona to have open houses and new product launches. Display appliances are discounted because they've been unpacked, displayed, and hooked up for the event. This is yet another opportunity for you to save on your appliance purchases.
Special purchases and overstocks
Manufacturers miscalculate and sometimes overproduce an appliance, and warehouses can literally overflow. The only way they can get rid of these excess appliances is to discount them to the trade. You can save money by purchasing these overstocked appliances.
The "catch" for many of these discounts is that they are temporary. There's a certain about of luck involved, and you need to have a willingness to buy something before you need it. You may even be purchasing an appliance that you would not have purchased absent the discount. Be on the lookout for these savings.
It's worth your while to ask your Arizona Wholesale sales associate about these opportunities. After all, they are here to help you.