Last week the Kitchen and Bath Show (KBIS) and the NAHB National Association of Home Builders (IBS) held their annual shows together in Las Vegas. Together these shows include exhibit most of the major appliance manufacturers. Here is a brief look at some of the top brands and their new products:
GE CAFE'
GE Cafe's Advantium Oven was the 2019 IBS award winner for its new Cafe™ Series 30 in. Single Wall Oven with Advantium wall oven. Here are some of the key features on the oven.
FEATURES
Speedcook oven (120V)
Enjoy oven-quality results two- to four- times faster than a conventional oven
Multiple cooking functions
Expand your cooking versatility with an all in one oven
Over 175 preprogrammed menu selections
Preprogrammed selections
Custom recipe saver
Conveniently store cooking instructions for up
Allows for use with JX2200/2201 storage drawer
SAMSUNG
Samsung introduced an enhanced Family Hub refrigerator and a new wifi connected washer that includes a laundry recipe feature which recommends the cycle depending on the clothes being washed.
KITCHENAID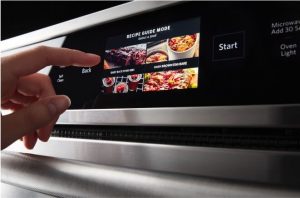 KitchenAid's new Smart Oven+ includes a powered grill, steamer, and baking stone attachment which expands what you can do with this oven beyond basic cooking. It's one of my personal favorites. I really like the way this product extends the uses of an oven.
PERLICK
Perlick's 24-inch column refrigerator looked like a behemoth at last year's KBIS, but now this manufacturer of heavy duty appliances for restaurants and bars is upscaling last year's refrigerator. This year's 30-inch-wide column refrigerator adds a new dimension (literally) to their lineup of commercial style refrigerators, freezers, and wine fridges for the home.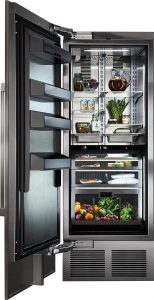 MIELE
Miele is one of the most prestigious European brands sold in the U.S. It's a staid old company, and doesn't have big product launches each year. This year, they've really stepped out with one of their biggest new product introductions in years.
New Products:
Coffee Systems
Dual Fuel and Gas Ranges
Mastercool refrigerators coming with 35 new options
including wi-fi and smartphone app
ProfiLine Dishwasher – clean dishes in24 minutes
Wi-Fi-connected vents and hoods
New Classic entry-level appliance line

 
MONOGRAM
Monogram Appliances unveiled sleeker appliance collections that blend more seamlessly with adjacent cabinets. The line includes a Professional Collection for the restaurant look, and a Minimal Collection with a sleeker design.
We'll be featuring these new offerings in upcoming blogs. In the meantime, don't hesitate to contact one of our sales associates at the locations below.