Most of us are used to seeing ovens with handles that open from the top down. We pull the door down, reach in for that Thanksgiving turkey, and slide out the oven rack over the open oven door.
However, there is another way. There are ovens that have doors that open sideways. Yup, that's right: side opening oven doors. Just like the door to your house, some ovens have doors that swing open. Actually, these oven doors have two configurations. There is the traditional single door version, and there is also the double door side opening oven door, often referred to as a French-Door (see Cafe' oven below).
Ovens with side opening doors swing out of the way when open making it easier to reach the contents of the open. You don't need to reach over the open oven door to reach the contents of the oven. For example, reaching over the oven door can pose a problem for someone in a wheelchair. Short people also have short arms and reaching over an oven door and into the oven can be problematic.
 For some people, ovens with side-swing French Doors are aesthetically appealing. Ovens with a side opening door or doors are available in multiple brands, in several colors, styles, and configurations. Here are a some of the appliance brands that offer ovens with side-swing doors.
Frigidaire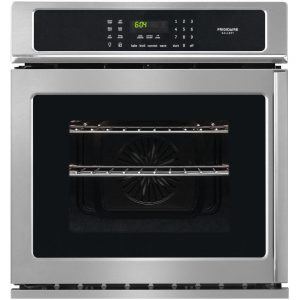 Above is a Frigidaire Gallery 27" Single Convection Electric Wall Oven with Self-Cleaning and Convection. The door can be configured to open from the left or the right.
Bosch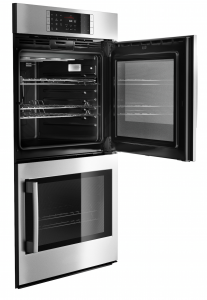 Bosch offers a wide selection of side opening ovens in single or double oven configurations, as well as combination oven and microwave. There are not only a wide variety of configurations, Bosch also offers some premium features including steam options.
Monogram
*Monogram offers a Pro French Door oven in a single oven configuration as well as a double oven with a French Door upper oven and a conventional drop down door on the lower oven.
Cafe'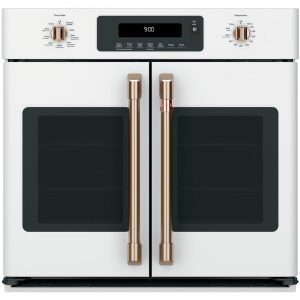 The customizable *Cafe' brand also offers a single oven and double oven configuration.  Cafe' offers several custom hardware options (handles, knobs, etc.), as well as black, white, or stainless steel finish.
If you want to explore all of the options in side opening ovens, call one of the Arizona Wholesale locations below to make an appointment with one of their experienced appliance advisors.
*Monogram and Cafe' are brands of the GE/Haier appliance company.