Upgrading Appliances From the Builder
So you're buying a new house, and getting ready to select your options and upgrades from the home builder. Wondering what to do about appliances?
Standard Builder Packages
Most home builders offer a base or standard appliance package. Standard appliances such as a range, a vent hood (or microwave-hood combination) are included in the price of the home. Desirable features such as self-cleaning convection ovens, or quiet operating dishwashers are usually not included in standard packages.
Upgrades and Options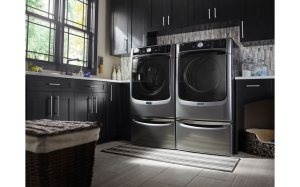 Many builders offer appliance package upgrades in lieu of the standards such as convection ovens and quieter dishwashers. Appliance options are not considered a part of a basic home purchase. Appliance options include refrigerators, washers, and dryers. Upgrades and options may be included in the home purchase price. 
Pros and Cons
In addition to having appliances included in your home price, there are other benefits to having your builder provide your appliances. Appliance packages are preselected. They'll have matching finishes, handles, and styles that go together and fit in the layout of your new kitchen.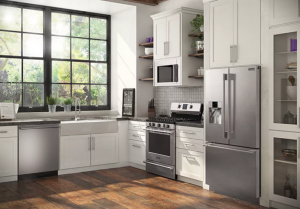 Since the appliances are preselected by the builder, they are sure to fit properly in the kitchen spaces. The appliances are delivered, installed, hooked up to the electric and gas connections, and ready to use when you move into your new home.
Of course, there are no out of pocket expenses, as your new appliances are part of the home purchase price. There's no need to load up your credit cards with a few thousand dollars of high interest debt to pay for your new appliances.
Arizona Wholesale is Arizona's largest builder distributor. Working with many of the leading builders in Arizona, our staff is well-versed in the builder side of the appliance business.
Call one of the Arizona Wholesale three showroom locations today for information on appliances, floor coverings, window treatments, and more.