If you're thinking about a new outdoor grill consider visiting Arizona Wholesale. At Arizona Wholesale you'll find a large selection of premium outdoor grills. Today, we're featuring the Lynx Grill brand which is one of the best and biggest lineups of outdoor grills. Lynx was founded in 1996 in Downey, California. Today, Lynx is part of the Middleby Residential Luxury Brand Portfolio. 
Lynx Grills are loaded with exclusive features, and feature a proprietary welding methodology that assures seamless corners.  The lineup consists of two distinct product lineups: the Lynx Sedona Grills and the Lynx Professional Grills. Both product lines focus on delivering the best grill on the market for the price point. 
Lynx Sedona Grills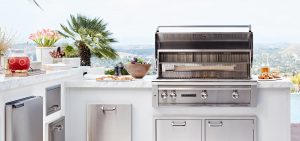 Lynx launched The Sedona Series of Grills in 2013 to fill the need for a truly luxury grill at a more affordable price. Today, Lynx  offers Sedona Grills to a broad range of premium customers without sacrificing quality.
Sedona Grills feature Infrared ProSear technology and Stainless Steel burners. They have 23,000 BTU ProSear stainless steel burners and are crafted with 201 grade 16 gauge stainless steel. The grill surface is illuminated with a bright interior light, and Sedona Grills also come equipped with a high quality rotisserie. 
Lynx Professional Grills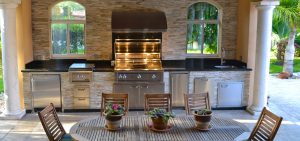 Lynx Professional Grills give serious home chef's the experience of cooking on a truly superior grilling machine. The product is designed to perform on the level of professional cooking product, and is elegant and premium in every way.
Lynx Professional Grills Feature 304 grade, 14 gauge Stainless Steel, and 25,000 BTU Ceramic Burners, and are also equipped with  Premium 23,000 BTU Trident Infrared Burners. The Patented hot surface ignition lights quickly, reliably, and is designed to  last for the life of the grill. 
Lynx Professional Series Grills are equipped with:
trident infrared burner
ceramic burner
hot surface ignition
Dual position, 3-speed rotisseries
Dual interior halogen lights
Lynx hood assist
 All Freestanding Models are shipped fully assembled
For more information on Lynx Grills, or any of the outdoor appliances featured by Arizona Wholesale contact our expert staff today.