I am a big fan of modular cooktops; probably due to my years with Jenn-Air, and their downdraft cooktops with interchangeable cartridges. It just seems to me that individual cooking modules let you design your cooking surface to suit your specific cooking needs. In this blog I'm going to show modular cooktop offerings from Gaggenau, Miele, Wolf, and of course, Jenn-Air.
These manufacturers all offer various cooking modules or hobs that can be arranged together on a countertop to provide the ideal cooking combination for any individual cook. For example, if you are a big fan of asian food, you may prefer a wok module. 
 Wok Elements and Burners
Wolf, Jenn-Air, Gaggenau, and Miele all offer a gas wok module. Jenn-Air also offers a unique curved bottom 15 inch induction wok module for powerful, quick response.

Deep Fryers and Steamers
Want a deep fryer, or steamer? Gaggenau has some unique modules in 12'' or 15" widths including a deep fryer, and a steamer.

Grills
Some folks want to be able to grill inside regardless of the weather outside. For you, Wolf offers a 15" grill module complete with ceramic briquette to add flavor and heat.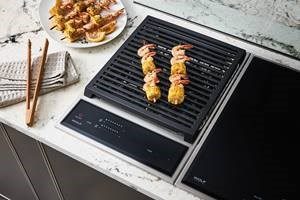 Griddles
The options seem endless. Take a look at this Miele contemporary surface unit. It's not only a beautiful appliance, but it also features a grill at one end, a gas Wok burner at the other, a Ceran surface unit, a Teppanyaki griddle in the center, AND two downdraft vents.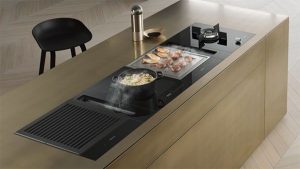 Whatever your needs, when it comes to modular cooktop units, ArizonaWholesale has you covered. For modular cooktops, and other major appliances, window treatments, or floor coverings you can rely on us.