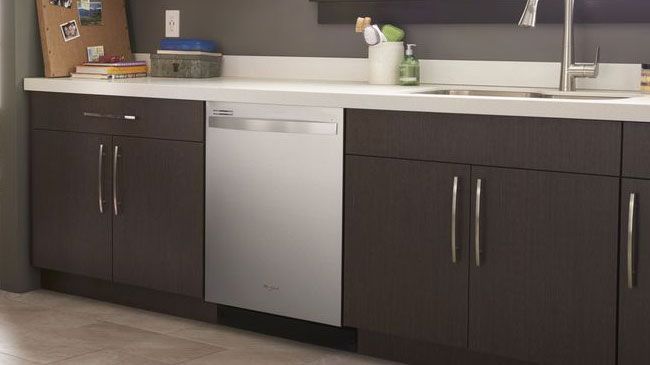 For the longest time, the best dishwasher was judged to be the dishwasher that was the quietest. Yes, QUIET was the big thing in dishwashers. So, the consumer rating services seemed to favor a couple of European dishwasher brands since quiet was a "thing" in Europe long before the trend hit the U.S.
After a while some folks (including the government), didn't give a hoot how quiet dishwashers were. "How much water do they use?" Yes, LOW WATER USAGE became the big thing. If brand X dishwasher used more water than you could spit into a cup*, it was off best dishwasher list. 
Eventually, dishwasher manufacturers discovered how to complete a cycle with barely a cup full of water**, and the best dishwasher list changed for a third time. However, very quiet dishwashers that don't use much water have very long cycle times. Not months or weeks, but it seemed like you could start your dishwasher when you went to bed at night, and the dishwasher would finish its cycle while you were having breakfast the next morning. Today, consumers want a dishwasher with a cycle that will finish QUICKLY.
You may have deduced that we've used some exaggerations here, but there is also validity that customers are looking for certain key capabilities in their evolving search for the perfect dishwasher. Today, savvy buyers 1) want dishwashers to get their dishes clean, 2) in a reasonable amount of time (quickly), 3) without blasting them out of the house (quietly), 4) or draining the pool for water (while saving water).
QUIET, QUICK, CLEAN, and LOW WATER USAGE
Here are four dishwashers that have received favorable ratings online recently.
Best Dishwasher at a low price.
Rated by: Designer Appliances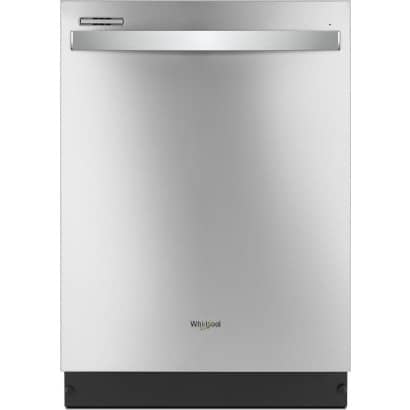 Whirlpool WDT710PAHZ
Whirlpool is often considered the king of quality budget dishwashers, and their WDT710PAHZ is popular for a reason. It offers many great features with a price tag that dips during seasonal promotions. Cleaning and drying performance receive some of the highest marks among consumers.
Two Best Dishwashers overall
Rated by: Business Insider
Bosch. SHEM63W55N
The Bosch 500 Series 24-inch Pocket Handle Dishwasher is our top pick because it features a third rack allowing it to hold more items, runs quietly, and uses less than three gallons of water per cycle.
Rated by: Consumer Search
KitchenAid KDTM354DSS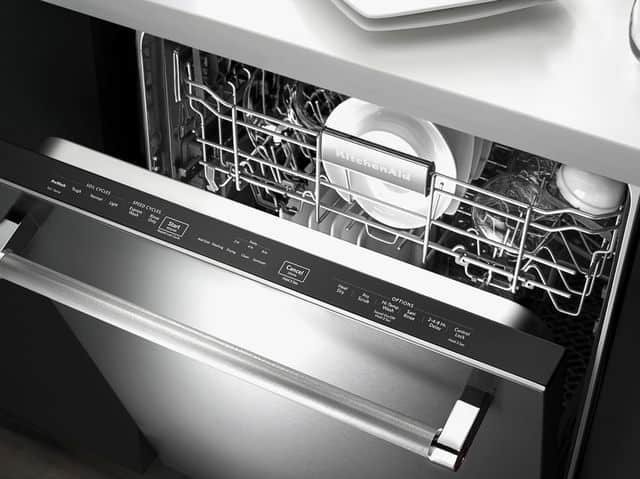 Expert reviewers and thousands of satisfied owners make the KitchenAid KDTM354DSS one of the most highly-rated dishwashers we evaluated. It's a top performer when it comes to cleaning even heavily-soiled dishes, and gets kudos for its "ProFilter" technology that continually removes food particles so your dishes aren't being cleaned with dirty water. Users also love its roomy interior and flexible loading options, and say it's very quiet.
Best Luxury Class Dishwasher
Miele G4228SCUSS
Classic Series 24 Inch Built In Full Console Dishwasher
The 24″ Classic Series Built-In Dishwasher from Miele can accommodate up to 16 place settings. The CleanAir drying system provides hygienic drying by drawing in room temperature into the unit. With the AutoSensor technology, water temperature and usage adjust based on the soil levels within the dishwasher.
Best Place to Get a New Dishwasher
Of course, to get a little help in selecting just the right dishwasher that fits YOUR needs, and at just the right price, contact the professionals at Arizona Wholesale.