Frigidaire Smudge-Proof Stainless Steel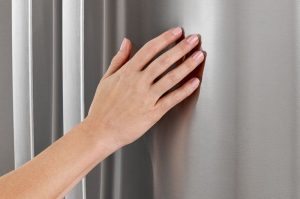 Frigidaire is famous for introducing Smudge-Proof stainless steel. I first saw this at a trade show (KBIS/IBS) several years ago. Since I doubted that it was really that good, I did my best to mess up the front of a Frigidaire refrigerator with both my hands. No such luck. It seemed that I could not leave even a partial fingerprint. I was quite impressed, since I WAS able to leave noticeable smudges on competitive stainless steel appliance brands without any trouble.
Frigidaire's secret is that they have added a thin coating that is resistant to smudges. I looked very carefully for something covering the metal finish itself. There was no clear sheet stretched over the stainless steel as a protective cover. I suspect that was applied as a liquid that seals itself into the stainless steel rather than some clear acrylic cover applied over the stainless steel.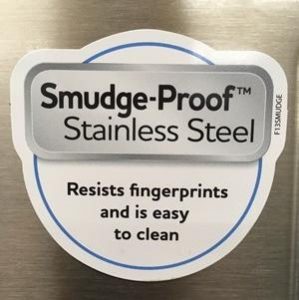 Maytag and Whirlpool have introduced what they describe as Fingerprint Resistant Stainless Steel which seems to be their own version of the Frigidaire process.
I also have discovered that there is another technique for hiding smudges. That is to increase the "brushing" on the stainless steel which evidently makes it harder to leave smudges. In any case, the Smudge-Proof finish on Frigidaire Gallery and Frigidaire Professional appliances is effective.
GE Slate Appliances
GE has taken a completely different approach to the stainless steel smudge resistance problem. They have developed an alternative to using stainless steel with their Slate appliance line. Slate is not stainless steel, but an entirely different acrylic gray finish. The advantage is that Slate does not smudge like stainless steel, and it is less expensive. GE now has over 50 slate appliances in the lineup. However, slate will not match with stainless steel. It is a completely different color and finish.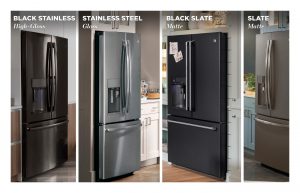 GE has recently introduced a new Slate finish in black. It's not black stainless steel, and it's not just black acrylic paint. Instead, like the grey slate finish, black slate is a flat finish, not glossy like other black appliances.
Black Stainless Steel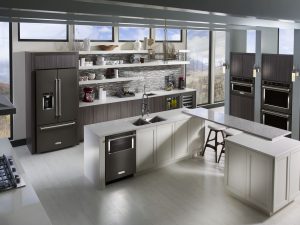 KitchenAid was the first brand to market black stainless steel. This finish is indeed stainless steel which comes in rolls just like stainless steel from the fabricator. It is not a paint-like finish, but it is a treatment to the metal itself that turns the exterior of stainless steel black. It not only is smudge proof, but the black finish is stronger and more durable than acrylic paint. Nevertheless, a deep scratch could cut through the black finish, and expose the shiny stainless steel underneath.
Black stainless steel has become quite popular, and is widely available from several appliance brands. An advantage to black stainless steel is that much like regular stainless steel, the finish can be mixed and matched among several manufacturers.
Some brands offer a black stainless steel, that has a vinyl like coating over the metal. It's an attractive glasslike coating that also makes the appliance very easy to clean with a simple wipe from a wet cloth. It's important to note that this is a basically a plastic coating over the metal, and over time could be subject to discoloration cuts, nicks, and even peeling.
For more information regarding major appliances, water treatment, flooring products, and window treatments call or visit the experts at Arizona Wholesale today.