Modern Glass Collection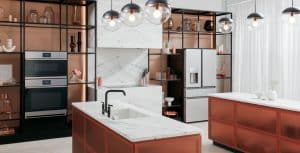 The Cafe' appliance brand from GE (Haier) is unveiling a line of appliances dubbed the Cafe' Modern Glass Collection. Here's how they describe this appliance grouping:
Café Modern Glass Collection in Platinum is our newest appliance collection featuring a reflective glass finish. Its angular, modern lines match the most contemporary styles and the state-of-the-art features take your meals to the next level. It's a collection that will resonate with minimalists as a true reflection of their style.
The line consists of Ranges, Refrigerators, Wall Ovens, Microwaves and Dishwashers. The appliances are sleek looking, with few knobs, buttons or other protrusions. The ranges, wall ovens, and microwaves have large black glass fronts. The dishwasher has a recessed handle that they describe as an "integrated pocket", and  the refrigerator also features recessed handles. Cafe' calls the stainless steel finish on the dishwasher and refrigerator "Platinum Glass". The entire appliance collection has a minimalist appearance throughout.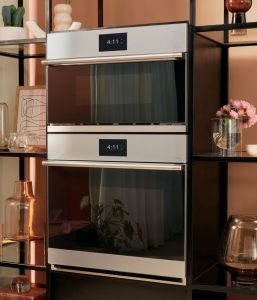 However, Cafe' did not stop here. These products have advanced features including full color touch control panels, and app-guided temperature controls. Of course, they feature control from anywhere using a convenient smartphone app. The lineup should be shipping now, and additional models will be added in 2020. Contact your sales representative at Arizona Wholesale for more details.