When we consider "major appliances", for the most part we're discussing full-sized kitchen products. Nevertheless, compact appliances are increasingly becoming integral to our lifestyles. Just think of all the applications for an undercounter fridge. Rec rooms, dorm rooms, apartments, garages, and closed in patios are common uses for small sized refrigerators. In addition, downsized refrigerators and freezers can be very practical for added storage in pantries and utility rooms. Do you run out of freezer space around Thanksgiving, during harvest time, or hunting season? I could go on, but you get the picture.
Here are some undercounter refrigerator, freezer, or beverage center solutions from a few leading manufacturers of these products:
Sub Zero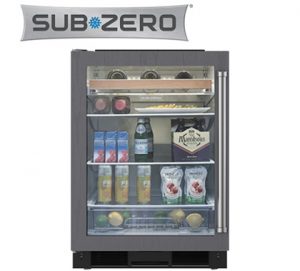 We know Sub Zero for their leadership in built-in refrigeration, but they also build a very complete lineup of undercounter refrigerator/freezer products. They are available both in panel ready models as well as with stainless steel fronts. In addition to the swing out door models, Sub Zero offers a surprisingly broad selection of drawer units. They offer undercounter refrigerators, freezers, and combination units in drawer versions.
U-Line

U-line is a specialty brand that is very well known for their undercounter refrigerators, wine units, and ice makers. They are available in 24", 18" and 12" width models, as well as in refrigerator drawer configurations. They even manufacture a 36" wide side-by-side undercounter model.
KitchenAid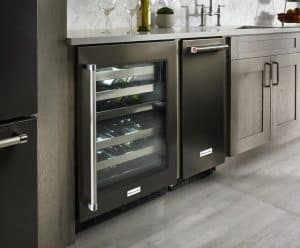 The KitchenAid brand has a limited line (9 models) of undercounter refrigerators (5), refrigerator drawers (1), refrigerator/freezer drawers (1), and beverage centers (2). Some models have glass fronts. 
GE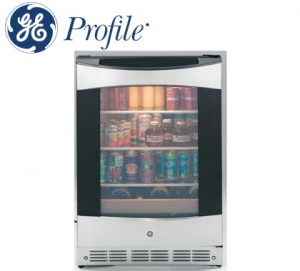 GE Profile Series Beverage Center (pictured), GE Profile Series Wine Center, GE Beverage Center, GE Wine Center, and GE Compact Refrigerators (11). GE appliance compact refrigerators are a perfect solution whether you need a fridge for a dorm room, rec room, or are looking for a convenient option for the garage. Models are available with freezers or separate double-door option.
At Arizona Wholesale you'll find a complete selection of specialty refrigeration appliances such as undercounter refrigeration products including ice makers, wine reserves, beer dispensers, and more. Call or visit one of the Arizona Wholesale locations below today.