You can save money on appliances at Arizona Wholesale in several ways.
If you're a builder, you already know that you can get a builder quote from AZ Wholesale with factory pricing for your projects. Just call Arizona Wholesale and ask to speak to the sales department for a builder quote. But, even if you're not a builder, you can still save money on appliances. Let's take a look:
Discontinued Models
Arizona Wholesale is Arizona's largest builder distributor, and they keep a substantial appliance inventory in stock at all times. These appliances run the gamut from standard model dishwashers, ranges, hoods, cooktops, and ovens to home buyer options such as refrigerators, washers, dryers, and more. Appliance models are continually being updated and changing. Therefore, AWS (Arizona Wholesale) is always clearing out the old models to make room for new ones. That's an opportunity to save as Arizona Wholesale needs to mark down and sell off the old models to restock them with the new.
Overstock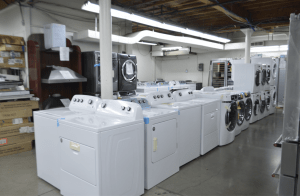 Even the most experienced appliance buyers aren't perfect, and they sometimes purchase too many of this or that appliance model.  Therefore, they must sell off excess inventory. Individual buyers can pick up perfectly good, in stock appliances at a significant savings.
Canceled Orders
Stuff happens, and everyone hates it when good faith orders get cancelled.  AZ Wholesale's loss can be your gain, and every mistake is an opportunity for someone. Could it be you?
Uncrated appliances
Appliances get unboxed for a variety of reasons, Sometimes appliances are used in displays at shows, events, or in model homes or showrooms.  Even though these appliances are "factory fresh", and they are unboxed, this is your chance to save on a perfectly good new appliance.
Returns
Appliances get returned – often without being used. Sometimes folks just change their minds, and sometimes an appliance just doesn't fit in the space. Whatever the reason for the return, somebody's loss can be your gain.
Ask your Arizona Wholesale sales representative about these savings opportunities. If you don't have an assigned sales representative call Arizona Wholesale at (602) 258-7901, and ask to speak to a sales representative or call the liquidation center at  (602) 526-1270.