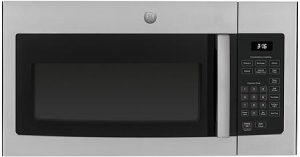 GE introduced the first micro-hood in 1978. It was an all-in-one, 1.0 cu. ft. microwave oven combined with a range hood. Critics thought that a 2-in-1 appliance serving as range hood and microwave oven was an odd combination. However, it removed the microwave oven from the countertop, and kept it conveniently available in a central kitchen location. GE put a lot of marketing and advertising muscle behind this odd device, and the micro-hood combination became quite successful. Today, all the big name, popular priced appliance manufacturers offer micro hoods in their appliance lineups. In addition, nearly all production home builders offer an over-the-range micro hood either as a standard or in their options.
Naturally, Arizona Wholesale offers a wide selection of micro-hoods in different brands and price levels. Micro-hoods typically fit in standard 30" spaces and can be ventless (recirculating) or vented. Depending on the brand and price, you can explore a host of different features. Your sales consultant will walk you through the choices to get just the right product and features, and of course the best price. 
You are welcome to take a short walk from our showroom down to the Arizona Wholesale liquidation center at the other end of the building. Victor will be happy to show you the selection of uncrated or slightly scratched microhoods. These products are aggressively priced, and yet may fit your needs and budget perfectly.
*Spacers may be available for 36" openings.