If you're thinking about purchasing a freestanding freezer to store food, here are some considerations. There are two major types of freezers, upright and chest freezers. Upright freezers are vertical. The door swings open to reveal shelves where your frozen items are accessible. Chest freezers are horizontal. The door opens upward and the frozen items are stacked on top of each other or in bins. 
Upright Freezers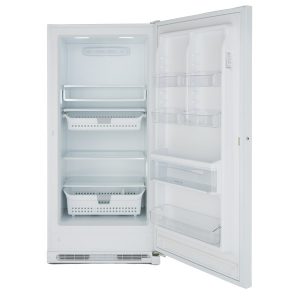 The biggest advantage to owning an upright freezer is accessibility. Simply open the door and the contents are visible and can be easily accessed. Another advantage of an upright freezer is that they have a smaller footprint than a chest freezer. You can choose between a frost-free (self defrosting) or a manual defrost model. Frost free models cost a bit more to operate, and will be somewhat noisier than standard models. The total storage available on an upright freezer would be less than a comparable size chest freezer because of the shelves and bins.
Chest Freezers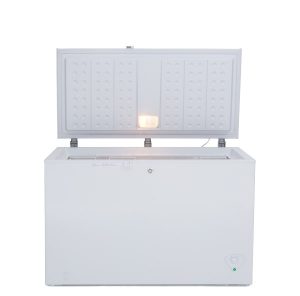 Unlike upright freezers, chest freezers are not available in frost-free versions. While chest freezers occupy more floor space, they will use less energy. Accessibility can be a real bother since food items are stacked on top of each other, and it can be difficult to access items on the bottom. 
Since freezers are not usually opened and closed many times a day, defrosting is not frequent. However, defrosting can be troublesome, and frozen Items can begin to thaw while your freezer is defrosting.
There are many benefits in owning a freezer. You can take advantage of sales on frozen goods to stock up. If you are a fisherman (or fisherwoman), a hunter, or if you grow some of your food, a freezer will be useful. Some people purchase large quantities of meat from butchers and store it in their freezer.
During this quarantine, owning a freezer can help reduce visits to the grocery store. Call Arizona Wholesale today to get connected with one of our working-from-home sales associates for freezer prices and availability.