Choosing a new range? If you have your choice between gas or electric which should you choose?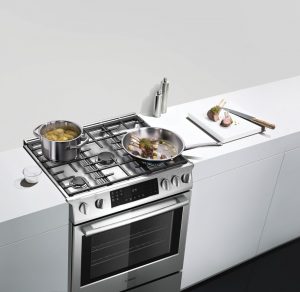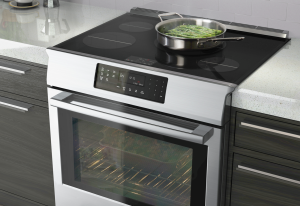 There is no question that restaurant chef's prefer gas over electric. In general, they cite preferences based on the speed, the high heat potential, the ability to use flame in their cooking, and the reliability of gas ranges.
Consumers are much more evenly split on their preferences and far less decisive than restaurant chefs. Often it is just a matter of what fuel is available in their home. Home kitchens sometimes do not offer gas in the kitchen even when gas is available for furnaces and water heating. Let's take a look at some specific factors to consider when choosing between gas and electric.
Safety
People sometimes think of electricity as being a "cleaner" fuel. No combustion, no flame, and no odor. That's not really accurate, but the concept is out there so we should address it. Natural gas is odorless. However, gas utilities add a harmless chemical, mercaptan, to the gas supply. The odor, which people describe as the smell of rotten eggs, is there so that you'll know that there is a gas leak. It's a safety provision.
However, there are safety risks from gas leaks, such as carbon monoxide poisoning, and even brain injury. Normally, natural gas burns cleanly, but incomplete combustion will leave carbon monoxide which is poisonous. Of course, nobody has ever been electrocuted by natural gas. While electric ranges are very safe, they do require 240v and short circuits or improper grounding could be hazardous. You can get burned just as badly from putting your hand on a hot electric range as you can by putting your hand on a hot gas range.
Performance
Gas does feature instant on and instant off, while electric heats up and cools down over a period of time. Nevertheless, a gas stove will usually take longer to boil a pot of water than an electric stove. Tests between gas and electric ranges are not conclusive on speed, even cooking, and other measures. There is more difference based on different brands and models than there is between fuel types.
Reliability
The edge here goes to gas. In general, all ranges are fairly dependable.
Cost
Electric ranges cost less to buy than gas ranges. However, gas ranges will cost less to operate than electric ranges.
Other Options
Maybe you won't have to make the choice, and the sacrifice of giving up the benefits of gas vs electric or electric vs gas. What about induction? Induction cooktops look like regular radiant electric  cooktops except that they use magnetic induction technology. What does this mean? Induction cooktops provide the instant on of gas. You get instant heat and when you turn them off, they do not have the heat retention of common radiant cooktops.
Another interesting option is dual fuel. A dual fuel range gives you the benefit of both gas and electric. The surface unit is gas. You'll have the instant on and off flame on the top, but in the oven you have that even electric cooking that you love for baking. You might even have a convection feature. 
There it is! All you ever wanted to know about cooking with gas or electric. Make your choice. For more information on new appliances call the professionals at Arizona Wholesale today.