Early Refrigerators
We begin by giving thanks to Thomas A. Edison for the light bulb that was responsible for bringing electricity to our homes. After that, it wasn't long before the refrigerator replaced the ice box. Frigidaire actually introduced the first self-contained unit in 1923. General Electric's iconic "Monitor-Top"  (below) launched in 1927 was all the rage. Except for the compressor on the top, early refrigerators were hardly indistinguishable from ice boxes. They were vertical, white boxes, on legs, with a single door on the front and a handle.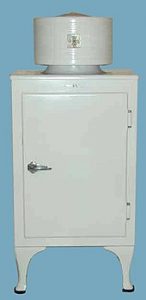 Refrigerators With Multiple Doors
As time progressed, the tiny freezer compartments grew much larger. Eventually, two separate doors replaced the old single door ice box. This two door configuration was called a top mount refrigerator. Amana popularized a bottom freezer option, and soon afterwards side-by-side refrigerators became our favorite style. Today, the variety in doors and compartments, boggles the imagination. The KitchenAid model below has 5 discrete doors.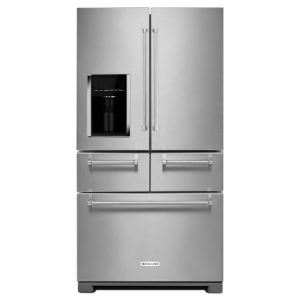 While the bottom refrigerator configuration pioneered by Amana, remains, they have morphed into French door refrigerators. Then somebody added a deli-drawer separating the upper French doors from their bottom freezers.  Samsung has recently added a lower compartment that can be a refrigerator OR a freezer. You decide. It's called a Flexzone.
Built-In Refrigerators
Had enough? We're not done yet. We haven't even touched the variety of Built-In Refrigerators, and what about compact refrigerators. Don't laugh. Sub Zero has pioneered a complete line of built-in undercounter refrigerators and freezers including drawer models. They are amazing!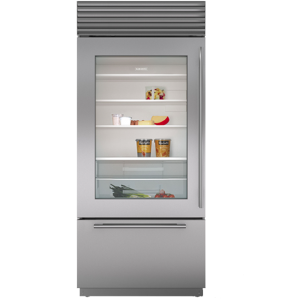 Add to all this, the various refrigerator dispensers. It began with a simple ice dispenser, followed quickly by ice and water dispensers. Of course, if you have ice cubes, you're going to want crushed ice. Where will it all end?
Think you might have trouble sorting all this out? Well, help is on the way. The professionals at Arizona Wholesale can take you step-by-step through this quagmire, and help you make the selection that works best for you. Call today. We're here to help.