When you buy a new home, you'll have a lot of choices to make such as flooring, countertops, and yes major appliances. Every home builder is different, and they each have their own procedures and policies. However, when it comes to appliances there are some similarities among different builders.
Standard packages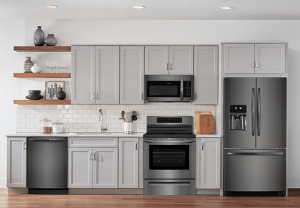 Nearly all production homebuilders will have some standard appliance package that is included in the base price of the home. Standard appliances will have a range or cooktop/oven combination including a range hood or microwave hood, and a dishwasher. Buyers might be able to select the appliance color, but beyond that any changes are upgrades that will be at additional cost. Custom home builders often just build in an appliance allowance and let buyers pick out their own appliances.
Builder's new appliance packages are a single brand selected to "go together". New home owners call the same number for warranty service for all their appliances. With different brands, if a buyer has a brand X range sitting in their kitchen near a brand Y dishwasher, the display on the dishwasher may be red while the display on the range is green. It can be quite annoying. In some cases, the brush on the stainless steel might even be different between brands. Certainly, any knobs or buttons won't match across brands.
Options
Refrigerators, washers, and dryers are not typically included in the standard home purchase price, but can usually be added. It's nice to be able to move into your new home, with a new refrigerator, washer and dryer waiting for you on day one. Another benefit is that by adding these into mortgage, you don't have to come up with the cash. Though you'll be paying for those appliances for the life of the mortgage, the monthly amount is very small.
Upgrades
Sometimes, the home builder standard appliances will fit the buyers needs perfectly, but often buyers will want something different. That's where the upgrade opportunities present themselves. Upgrades can be very compelling. Buyers only need pay the difference between the standard appliance and the upgrade appliance. Considering that new homeowners will have these new appliances for many years, buyers often elect to pay the premium to get the appliances they really want rather than settle for the basic standard appliances.
Arizona Wholesale specializes in working with home builders and their new home buyers through the appliance selection process. Call today to find out how we can help you.