A Brief History
Westye Bakke founded the Sub-Zero Freezer Company in 1945. Bakke designed a freezer that would preserver food at temperatures below zero, and hence the name Sub-Zero. Today, it's a Wisconsin-based company that manufactures a full-line of major appliances under the brand names Sub-Zero, Wolf, and Cove. They launched Wolf cooking products in 2000, and added Cove dishwashers in 2018. Sub-Zero factories are located in Arizona and Wisconsin.
Three Great Brand Names
One Co-ordinated Luxury Appliance Offering
Sub-Zero's built-in refrigerator/freezers have two independent cooling systems. By regulating temperature and humidity separately, and by circulating air independently, food stays fresh longer. This exclusive Sub-Zero dual refrigeration system is the foundation of Sub-Zero's success.
Wolf products include gas and dual fuel ranges, built-in ovens, cooktops, range tops, microwaves, and various ventilation products.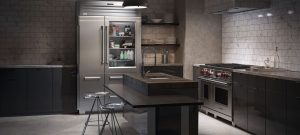 Sub-Zero recently designed and launched a dishwasher line to complement the Sub-Zero and Wolf portfolio. Cove wasn't launched until 2018 after many years of research and development. The dishwasher operates at a very quiet 42dbs, and carries an industry leading 5 year warranty. Also, the Cove dishwashers aesthetics co-ordinate nicely with Sub-Zero and Wolf. The handle designs are compatible and the grain of the stainless steel is the same.
The Sub-Zero family of brands, is clearly in the top echelon of luxury appliance brands. For more information on these brands, and all your appliance needs, call Arizona Wholesale today.