Recently, I was browsing through the latest edition of one of the appliance industry trade magazines.  The amount of innovative appliances featured was really quite impressive. I counted 5 descriptions of appliances as innovative, and 2 mentions of appliances as advanced or most advanced.  In one instance, an appliance was touted as downright "revolutionary". And that's just looking through the advertisements. 🙂
Seriously, appliances being introduced today are loaded with new features and innovations. Here are just a few that I found interesting.
New Innovative Appliances for 2020
GE has a washing machine featuring Odorblock. It's a venting system that prevents the growth of odor-causing bacteria. 
Sharp  invented the built-in microwave drawer.  They have been making them for years. However, you can open this one by merely waving your hand up and down in front of the microwave.

Best Range Hoods makes the iQ Blower System. It is two times quieter, and 20 times more efficient than competitive models. Most exciting for builders is the included CRT technology.  CRT makes it possible for the installer to adjust the maximum blower speed. Therefore, one range hood can be adapted in order to adhere to a variety of local codes for make-up air requirements.
Innovative Appliances from 2018 and 2019
KitchenAid  makes a wall oven that has powered attachments. They include an oven-powered grill, a baking stone, and steamer attachments.
Samsung's 4-door flex fridgerator sports a compartment that converts from a refrigerator to a freezer.
Several manufacturers now make appliances that can be operated by smart phones. For example, you can be shopping and check what's in your refrigerator by enabling an interior camera. You can also pre-heat your oven by wifi, so that it will be ready to go when you get home. 
Dacor's WineStation enables wine aficionados to dispense 4 different bottles of wine. Don't worry, it has a Parental Control Locking Door.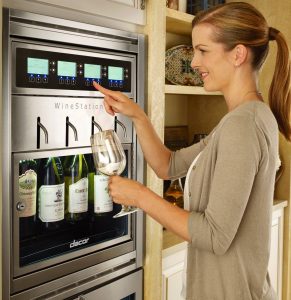 As you can see, manufacturers are making their appliances "smarter". They're more intuitive, and just more useful for customers. To find out more about how you can get one of these useful appliances call Arizona Wholesale today.