Typically, when we think of Sub Zero, we picture really large kitchen appliances. Except for the Pro Grande behemoth (see below), the Sub Zero name is practically synonymous for full-size built-in refrigerator/freezers that install neatly between kitchen cabinets.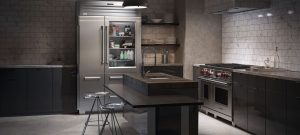 However, for several years now, Sub Zero has been building and selling one of the most complete lines of undercounter refrigeration, The lineup includes a very good selection of refrigerator and freezer drawers. Today, we are going to review Sub Zero's under-counter refrigerator/freezers, and even imagine them in rooms other than your customary kitchen venue.
It's important to know that Sub Zero (and others) believe that it's time to rethink refrigerated products as solely used in the kitchen. Imagine under-counter freezer drawers in the pantry where you traditionally store dry and canned goods. Perhaps you'd like an undercounter refrigerator or beverage center in a family room or rec room. A few years ago, I installed an under-counter wine storage unit in a serving niche' in my dining room.
Sub Zero under-counter refrigerators and freezers are available in a variety of configurations:
Traditional front opening refrigerator/freezer.  Sub Zeros 24" outdoor undercounter refrigerator comes with a stainless steel door, a 24" undercounter panel ready refrigerator, and a 24" undercounter panel ready refrigerator with an ice maker.
Undercounter Refrigerator/Freezer Drawers. Sub Zero has a complete assortment of refrigerator and freezer drawers. They are all 2 drawer units that fit under the counter and can have stainless steel front panels or custom cabinet front. Drawer units are available in widths from 24 inches to 30 inches. There is even a refrigerator/freezer combination unit offered.

 
Undercounter Beverage Center. For game rooms or any gathering place in your home, a beverage center might be the perfect option for keeping cold drinks handy. Some units even offer different temperature zones. Look for this feature if you plan on storing wine in your beverage center.
Wine storage unit. Sub Zero's undercounter wine storage unit has a 46 bottle capacity. It has two compartments offering dual temperatures, and ideal humidity. A glass door is standard. Choose from overlay, stainless steel, or optional solid door (special order). There are 2 models available. The UW-24FS/S can stand alone. It is 24 1/4" wide with a full stainless steel wrap cabinet. The UW-24/S is 23 7/8" wide and is designed to fit nicely in a 24" wide cabinet.
For more information about these products or other fine appliances call Arizona Wholesale today.