When was the last time you performed maintenance on your appliances? Maybe now would be a good time to get busy around the house, checking the condition of your appliances, and doing some routine cleaning and maintenance.
Washing Machine
According to Bob Vila, washer hoses should be replaced every 3 to 5 years.  However, most homeowners neglect replacing washer hoses unless they are having a problem. If your washer is more than 5 years old, you should definitely consider replacing your washer hoses. The risk is great. Consider the water damage if one of those hoses splits. If your washer has rubber hoses, you should replace them with the stronger, stainless steel braided hoses. At a minimum, inspect your water hoses for cracks or leaks.
If your washing machine moves or bounces excessively, make sure that it is level. Finally, if your washing machine is upstairs, consider adding a drip pan under the washer as a precaution for water leaks.
Dryer
Clean the lint filter regularly. It's a good idea to periodically remove the front panel on dryer to vacuum inside. Make sure that the dryer is venting out properly. Lint can collect in the dryer vent hose leading to the duct. Also, the vent ducting itself needs to be periodically cleaned out. 
Refrigerator
Refrigerators that have water connections for ice or water dispensing also have water filters. It's important to replace the water filters as recommended. Refrigerators operate best when they are mostly full. The contents help maintain the cold. It's also a good idea not to open and close the refrigerator door excessively. Most refrigerators have "self-cleaning" coils, but it doesn't hurt to check them occasional and brush out any dust build up. At the same time, you might check the drip tray under the refrigerator. Keep the refrigerator gaskets clean. They'll seal better and last longer.
Range
Clean the range top regularly. Plan ahead before using the self-clean feature on your range. Because of the toxic fumes generated during the self-cleaning cycle, it's recommended that you remove pets from the home, especially any birds. Also, remember to completely empty the oven, and remove the oven racks before using the self-clean feature. Periodically, remove the range's bottom drawer or panel and clean under the range. Just as for refrigerators, keep the gaskets clean.
Over-the-Range Microwave
Most OTR (over-the-range)  microwaves have an aluminum mesh filters that can easily be removed, cleaned, and replaced. However, some OTR microwave ovens have charcoal filters that must be periodically replaced, usually annually. Clean the interior of your microwave oven with warm soapy water.
Dishwasher
Dishwashers have one or more filters that may need periodic cleaning. Typically , there is a screen of some kind that is designed to filter out small food particles that did not go down the drain. These screens are mostly self-cleaning, but you might periodically need to wipe it off.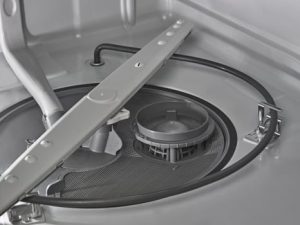 In addition, dishwashers may have a filter basket. They capture larger items to prevent them from going into the water pump. It's a good idea to clean the seal between the door and the inside. Finally, dishwasher racks can build-up residue. They may even need to be removed to clean.
For all your appliance needs, be sure to call the professionals at Arizona Wholesale.